TWINCAM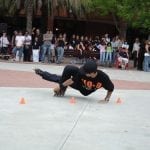 Video of Thomas Vil (Gyro Germany Team / Twincam Slalom World Team) at Battle Belgium 2009 in Hasselt.
Produced by 4WheelFreestyle
Eddy Matzger and his Thai friends play on an inflatable dam in the north of Thailand. What seems like fun is actually hard work!
Eddy flies on the slideboard wearing his free economy class airplane socks over his shoes while the big boys skate the Dutch Natural Ice Marathon Championships on the internet.
Inline skater Eddy Matzger starts a new Olympic Medal Sport movement (Rollerbagging) as he rides his luggage around Seattle, Washington on a standard issue duffel with wheels.